The Brides of Sweet Creek Ranch is an uplifting Sweet Historical Western Romance series set in Wyoming Territory on a frontier homestead ranch. The books follow the untamed Haven brothers, the spirited brides they marry, and the struggle to find love and joy amid the rugged wilds of the West.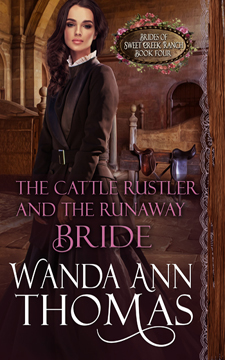 THE CATTLE RUSTLER AND THE RUNAWAY BRIDE (Brides of Sweet Creek Ranch Book 4)




Amazon
WYATT HAVEN enjoyed spicing up life with dashes of humor and excitement until his antics ended in a tragedy. He makes the painful decision to leave his beloved home and family and join a Wild West show, but a beautiful Englishwoman's plight waylays him when she accepts his impulsive offer to help her save her horses. Even by his standards, marrying a runaway bride and stealing six horses from the cattle baron who hates him is the most dangerous exploit in a long line of reckless stunts. The angry cattleman vows he'll hang for this latest insult. Sickened that his risky ways could cause more harm, especially to Kitty, Wyatt determines to do all in his power to protect this brave and resourceful woman he's falling for.
A family scandal has forced British heiress CATHRYN CLIFFTON to accept the hand of an American cattle baron twice her age. Upon arrival in the frontier city of Cheyenne, Kitty discovers her fiancé's promise of a breeding ranch for her polo ponies was a lie. Worse, he has ghastly designs for them. To save the horses, her whole world, she takes them and runs away with a charming cattle rustler. Instead of a safe life of tea and polo matches, Kitty finds herself marrying the rustler, hiding in an outlaw camp, and being chased by her vengeful fiancé and his six-gun-toting men. Uninhibited and audacious, Wyatt Haven is unlike any man she has ever met, and she finds herself drawn to his good humor and kindness.
He is too wild. And she cares only about her horses.
Theirs was supposed to be a marriage of convenience.
Until love comes calling for…THE CATTLE RUSTLER AND THE RUNAWAY BRIDE.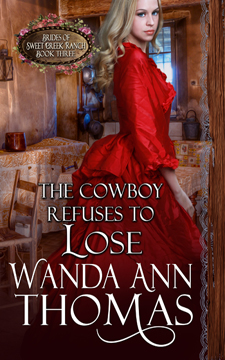 THE COWBOY REFUSES TO LOSE (Brides of Sweet Creek Ranch Book 3)




Amazon
Swedish immigrant, BRIGETTA LYNDTZ makes the difficult decision to leave her nanny job in Wyoming and fulfill her dream of owning and operating a bakery. The opportunity in Chicago won't last long. All she must do is leave behind the family she's come to cherish and, as one of the few marriageable women in the frontier town, fend off the cowboys who come courting. She considers them crude oafs—except for maybe one determined young cattleman.
Aspiring rancher GARRETT HAVEN yearns to overcome the spirited Brigetta's disdain of cowboys and win her trust and affection. He sure admires her good-hearted concern for folks, and is certain her dislike of bronco riding and cattle herding arises from fear for his safety. But Garrett's hopes for the future could turn to ash when a cattle baron intent on stealing his land strikes a disastrous blow. Beaten, bloodied, and penniless, Garrett rejects defeat. He vows to win Brigetta's love and save his ranch, even if it means risking his neck in the rodeo ring.
Will the nanny pursue her dream? Or will she linger too long over the delectable temptation of…The Cowboy Who Refuses to Lose?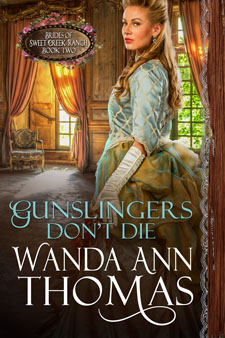 GUNSLINGERS DON'T DIE (Brides of Sweet Creek Ranch Book 2)




Amazon
MAGGIE REED HAVEN, formerly known as Lady Lily Female Bounty Hunter, once loved risk and adventure, but set aside those dangerous ways for a stable life. Ready to begin her career as a kindergarten teacher, she has the shock of her life upon discovering the gunslinger she had recklessly married, and who promptly got himself killed in a shootout, is alive and well. The revelation presents a giant, unavoidable problem-Boone Haven is the father of her three-year-old son. Determined to do right by her son and Boone she returns to Wyoming, where the wild allure of the West and the dark and danger of the gunslinger inflame her worst instincts. And Maggie finds herself torn between her tornado-like attraction for this deadly gorgeous man and the need for a safe, respectable future.
BOONE HAVEN hates his lonely life. But a man who makes his living as a hired gun, and goes by the name the Cowboy Assassin, is bound to draw a passel of trouble. Hounded by outlaws who have already been the cause of blood and destruction at his family's homestead ranch, he should have learned to be cautious. But he fell into a trap set by the bounty hunter, Lady Lily. Worse, he foolishly married the scheming woman, who he blames for the death of his dog and his heart. When Maggie, aka Lady Lily, explodes back into his life, and he discovers he has a son, Boone has no good choices. If he stops running, he fears more of his loved ones might die. If he continues his wandering existence, his son might believe he doesn't care. If he forgives Maggie, he risks falling under her powerful spell again.
Can the gunslinger escape his past, and learn to trust and love? What does the future hold for the kindergarten teacher when she discovers…GUNSLINGERS DON'T DIE?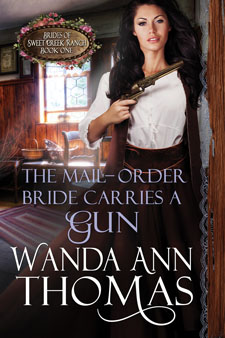 THE MAIL-ORDER BRIDE CARRIES A GUN (Brides of Sweet Creek Ranch Book 1)




Amazon
ELLA HUNTER never thought she'd be a mail-order bride. But when she sees a photo in the Marriage Gazette of the man she believes killed her brother, Ella agrees to marry the Civil War soldier turned cowboy. Prepared to confront a cold-hearted killer then return home, she finds all her expectations dashed when her intended husband appears to be a good man. Ella's loyalties are torn between honoring the memories of her family and her undeniable attraction to Ty Haven.
TY HAVEN needs a wife. The ranch he runs in the wilds of Wyoming Territory could use a woman's influence. Frankly, so could he. So when Ella arrives like a gift tied up in a cornflower-blue hair ribbon, more intelligent, practical, and, yes, beautiful, than he could have imagined, he hopes she will give him and the West a chance. Turns out, he doesn't just need a wife. He needs Ella. But she has a secret, and it might destroy their marriage almost before it's begun.
Can the unforgivable be forgiven? What will the cowboy do when he learns why…The Mail-Order Bride Carries a Gun?
About the Author:
Wanda Ann Thomas is the author of Sweet Historical Westerns. She adores heart-felt love stories, featuring honorable heroes and courageous heroines. The type of men and women who will brave any danger for loved ones, who strive to live good decent lives, and who struggle against overwhelming obstacles to win their happily ever after.
Wanda starts each day bright and early at her computer writing and drinking coffee. When the weather allows she and her husband average three rounds of golf a week. She confesses to being overly fond of chocolate chips cookies, winter vacations spent in sunny Florida, and her large boisterous family.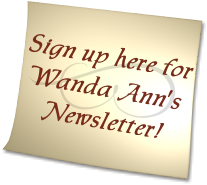 Find Me At: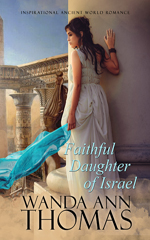 FAITHFUL DAUGHTER OF ISRAEL
(Stand Alone Inspirational Romance)
January 10, 2018


APOSTATE PRIEST
(The Herod Chronicles Book 4)
October 21, 2018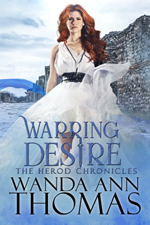 WARRING DESIRES
(The Herod Chronicles Book 3)
October 2015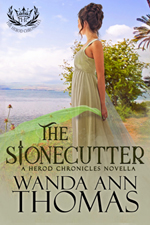 THE STONECUTTER
(A Herod Chronicles Novella)
July 2015

THE BARBARIAN
(The Herod Chronicles Book 2)
October 2014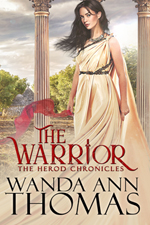 THE WARRIOR
(The Herod Chronicles Book 1)
November 2013