Wanda Ann Thomas
Wanda Ann Thomas
The Brides of Sweet Creek Ranch is an uplifting Sweet Historical Western Romance series set in Wyoming Territory on a frontier homestead ranch. The books follow the untamed Haven brothers, the spirited brides they marry, and the struggle to find love and joy amid the rugged wilds of the West.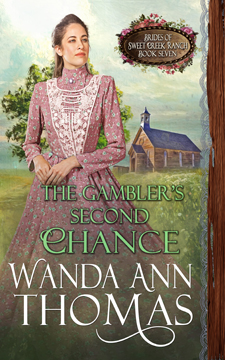 THE GAMBLER'S SECOND CHANCE (Brides of Sweet Creek Ranch Book 7)




Amazon
Professional gambler Luke "Ace" Haven foolishly proposed to a pretty missionary gal who has an unfortunate fondness for ugly bonnets. Coming to his senses he heads for the hills, only he fails to properly break off the engagement. When the lively woman shows up in his favorite Wild West town with hopes of taming it with a church, Ace will use every trick up his sleeve to prevent a steeple from darkening the skies. He also needs to reclaim the gift of an emerald necklace to build his very own saloon and gaming parlor, but his attempts to sweet talk Eva prove risky. And if Ace isn't careful his heart might be lassoed a second time.
Missionary Evangeline Prudence Dow fell for a devilishly charming cowboy who pretended to be a minister. After learning the fast-talking rogue is no saint, she is eager to return East and devout herself to the suffragette cause. First she must help her preacher father retire to a country church. An invitation to establish a church in a quaint whistle-stop town seems perfect until she discovers it is home to the liar who tromped her heart and worse yet, she is more attracted than ever to the gambler. Upon witnessing his love and devotion to a family ranch dedicated to rescuing orphaned boys, her good sense is in danger of crumbling, again. But Evangeline won't be tricked a second time.
Lies big and small stand in the way of...The Gambler's Second Chance.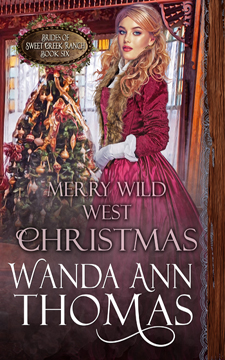 MERRY WILD WEST CHRISTMAS (Brides of Sweet Creek Ranch Book 6)




Amazon
Josephine Hopkins made a promise to never lose the joy and wonder of the holidays. Her first Christmas in the Wild West takes a disastrous turn when an accident injures her father and a cowboy rancher steps in to operate the family stable business. Her courage is further tested when telltale symptoms indicate that the illness that took her twin brother's life is slowly but surely coming for her. Love and marriage have no part in her future, but she briefly ignores this truth upon sharing a Christmas kiss as sweet as ribbon candy with the big, quiet rancher.
Ox Haven is happy to be a bachelor and is not one to pay attention to holidays. Until a pretty gal with strawberry-blond hair and a fondness for all things Christmas lassoes his attention. Her declaration that she plans on being a spinster doesn't sit right, especially given her joy in family and entertaining. His awkward attempts to court her start out hopeful, but end with heart-wrenching rejection. Not one to give up, he hopes a special Christmas surprise will change her mind.
A happy holiday sprinkled with visions of love stirs up impossible hopes when a lively city gal and a quiet cowboy share a…Merry Wild West Christmas.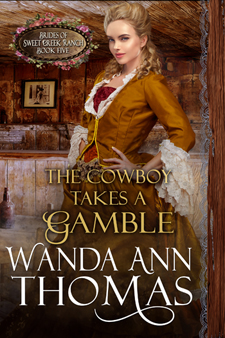 THE COWBOY TAKES A GAMBLE (Brides of Sweet Creek Ranch Book 5)




Amazon
What is a cowboy to do now the great cattle drives have come to an end? Marriage and settled life are fine for others, but LEVI HAVEN is antsy to strike out on the next grand adventure. That is until the tantalizing lady gambler the Jewel of Texas arrives. Why would a big-time cardsharp purchase a half interest in a small-town saloon? Her curiosity over his family's ranch only deepens the mystery. His gut tells him to run for the hills—he'd be a fool to fall for a woman sure to slip mirage-like through his hands. But an unwise fascination with the lady gambler draws him into the brilliant lightning storm called Jewel.
The novelty of being the Jewel of Texas has long since lost its charm on LAURA JENKINS JUDD. Nothing will make the lady gambler happier than to return to being plain Laura. But forging a new future won't be easy or without risk, not with her ex-brother-in-law relentlessly pursuing her. Leary of trusting others, she rolls the dice on a wandering cowboy. She has a thousand questions about the ranch Levi and his brothers grew up on, a cattle ranch dedicated to rescuing homeless boys. Levi agrees to assist her with the answers, only Lady Luck throws in a hitch. The cowboy with intense blue eyes isn't fooled by the façade of Jewel. No, he has the unsettling ability to see straight into Laura's hurting heart.
Family and friends are at risk and love is at stake when…THE COWBOY TAKES A GAMBLE.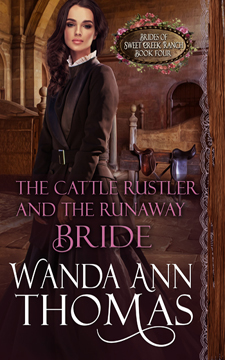 THE CATTLE RUSTLER AND THE RUNAWAY BRIDE (Brides of Sweet Creek Ranch Book 4)




Amazon
WYATT HAVEN enjoyed spicing up life with dashes of humor and excitement until his antics ended in a tragedy. He makes the painful decision to leave his beloved home and family and join a Wild West show, but a beautiful Englishwoman's plight waylays him when she accepts his impulsive offer to help her save her horses. Even by his standards, marrying a runaway bride and stealing six horses from the cattle baron who hates him is the most dangerous exploit in a long line of reckless stunts. The angry cattleman vows he'll hang for this latest insult. Sickened that his risky ways could cause more harm, especially to Kitty, Wyatt determines to do all in his power to protect this brave and resourceful woman he's falling for.
A family scandal has forced British heiress CATHRYN CLIFFTON to accept the hand of an American cattle baron twice her age. Upon arrival in the frontier city of Cheyenne, Kitty discovers her fiancé's promise of a breeding ranch for her polo ponies was a lie. Worse, he has ghastly designs for them. To save the horses, her whole world, she takes them and runs away with a charming cattle rustler. Instead of a safe life of tea and polo matches, Kitty finds herself marrying the rustler, hiding in an outlaw camp, and being chased by her vengeful fiancé and his six-gun-toting men. Uninhibited and audacious, Wyatt Haven is unlike any man she has ever met, and she finds herself drawn to his good humor and kindness.
He is too wild. And she cares only about her horses.
Theirs was supposed to be a marriage of convenience.
Until love comes calling for…THE CATTLE RUSTLER AND THE RUNAWAY BRIDE.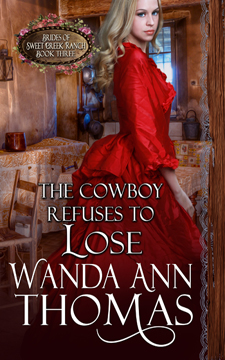 THE COWBOY REFUSES TO LOSE (Brides of Sweet Creek Ranch Book 3)




Amazon
Swedish immigrant, BRIGETTA LYNDTZ makes the difficult decision to leave her nanny job in Wyoming and fulfill her dream of owning and operating a bakery. The opportunity in Chicago won't last long. All she must do is leave behind the family she's come to cherish and, as one of the few marriageable women in the frontier town, fend off the cowboys who come courting. She considers them crude oafs—except for maybe one determined young cattleman.
Aspiring rancher GARRETT HAVEN yearns to overcome the spirited Brigetta's disdain of cowboys and win her trust and affection. He sure admires her good-hearted concern for folks, and is certain her dislike of bronco riding and cattle herding arises from fear for his safety. But Garrett's hopes for the future could turn to ash when a cattle baron intent on stealing his land strikes a disastrous blow. Beaten, bloodied, and penniless, Garrett rejects defeat. He vows to win Brigetta's love and save his ranch, even if it means risking his neck in the rodeo ring.
Will the nanny pursue her dream? Or will she linger too long over the delectable temptation of…The Cowboy Who Refuses to Lose?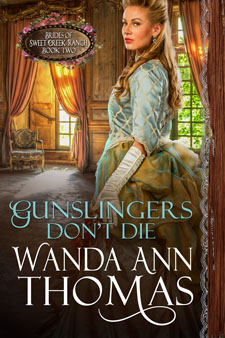 GUNSLINGERS DON'T DIE (Brides of Sweet Creek Ranch Book 2)




Amazon
MAGGIE REED HAVEN, formerly known as Lady Lily Female Bounty Hunter, once loved risk and adventure, but set aside those dangerous ways for a stable life. Ready to begin her career as a kindergarten teacher, she has the shock of her life upon discovering the gunslinger she had recklessly married, and who promptly got himself killed in a shootout, is alive and well. The revelation presents a giant, unavoidable problem-Boone Haven is the father of her three-year-old son. Determined to do right by her son and Boone she returns to Wyoming, where the wild allure of the West and the dark and danger of the gunslinger inflame her worst instincts. And Maggie finds herself torn between her tornado-like attraction for this deadly gorgeous man and the need for a safe, respectable future.
BOONE HAVEN hates his lonely life. But a man who makes his living as a hired gun, and goes by the name the Cowboy Assassin, is bound to draw a passel of trouble. Hounded by outlaws who have already been the cause of blood and destruction at his family's homestead ranch, he should have learned to be cautious. But he fell into a trap set by the bounty hunter, Lady Lily. Worse, he foolishly married the scheming woman, who he blames for the death of his dog and his heart. When Maggie, aka Lady Lily, explodes back into his life, and he discovers he has a son, Boone has no good choices. If he stops running, he fears more of his loved ones might die. If he continues his wandering existence, his son might believe he doesn't care. If he forgives Maggie, he risks falling under her powerful spell again.
Can the gunslinger escape his past, and learn to trust and love? What does the future hold for the kindergarten teacher when she discovers…GUNSLINGERS DON'T DIE?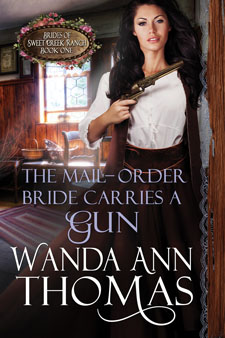 THE MAIL-ORDER BRIDE CARRIES A GUN (Brides of Sweet Creek Ranch Book 1)




Amazon
ELLA HUNTER never thought she'd be a mail-order bride. But when she sees a photo in the Marriage Gazette of the man she believes killed her brother, Ella agrees to marry the Civil War soldier turned cowboy. Prepared to confront a cold-hearted killer then return home, she finds all her expectations dashed when her intended husband appears to be a good man. Ella's loyalties are torn between honoring the memories of her family and her undeniable attraction to Ty Haven.
TY HAVEN needs a wife. The ranch he runs in the wilds of Wyoming Territory could use a woman's influence. Frankly, so could he. So when Ella arrives like a gift tied up in a cornflower-blue hair ribbon, more intelligent, practical, and, yes, beautiful, than he could have imagined, he hopes she will give him and the West a chance. Turns out, he doesn't just need a wife. He needs Ella. But she has a secret, and it might destroy their marriage almost before it's begun.
Can the unforgivable be forgiven? What will the cowboy do when he learns why…The Mail-Order Bride Carries a Gun?
About the Author:
Wanda Ann Thomas is the author of Sweet Historical Western Romances and Ancient World Christian Romance. The common bond is my delight in LOVE stories. And creating stories is my happy place. After juggling a career as a dental hygienist and raising a family, I was ready for a new challenge. Twelve years and ten books later I am more enthralled with writing than ever.
Drawn to western historical romance I adore cowboy heroes and the women who braved the dangers of the wild and wooly West to start a new life, in a new land. The allure of the beauty and severity of the mountains and plains. The bedrock of ranching and farming communities where faith, family, and friends are the heart of life. Imagining the sights, sounds, smells takes me back to my youth and time spent riding my grandfather's horses and summers haying and herding cows at my best friend's family farm. And this is all tied up with the sweet bow of a heartfelt love story.
I'm blessed to be living my own happily ever after with my high school sweetheart turned husband. Our three beautiful children and their spouses and the grandchildren are the light of our lives. When not at my desk writing I enjoy playing a round of golf, or sitting by the pool, or watching my flower gardens bloom. Road trips are a favorite recreation. There nothing more I relish than the excitement of traveling to new places and touring museums and historic homes or exploring cities or visiting national parks. And refreshed and brimming with vivid sights, sounds, and images, I am just as eager to return home and plunge back into writing the next story.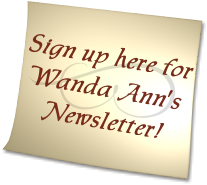 Find Me At: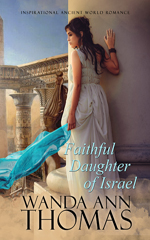 FAITHFUL DAUGHTER OF ISRAEL
(Stand Alone Inspirational Romance)
January 10, 2018


APOSTATE PRIEST
(The Herod Chronicles Book 4)
October 21, 2018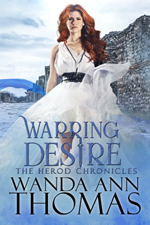 WARRING DESIRES
(The Herod Chronicles Book 3)
October 2015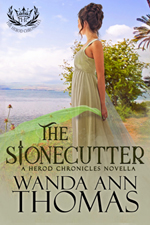 THE STONECUTTER
(A Herod Chronicles Novella)
July 2015

THE BARBARIAN
(The Herod Chronicles Book 2)
October 2014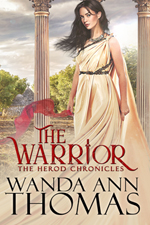 THE WARRIOR
(The Herod Chronicles Book 1)
November 2013