Find Me At: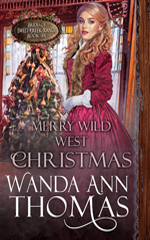 MERRY WILD WEST CHRISTMAS
(Brides of Sweet Creek Ranch Book 6)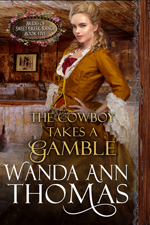 THE COWBOY TAKES A GAMBLE
(Brides of Sweet Creek Ranch Book 5)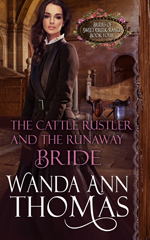 THE CATTLE RUSTLER AND THE RUNAWAY BRIDE
(Brides of Sweet Creek Ranch Book 4)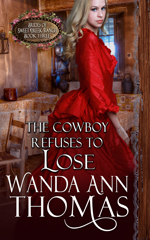 THE COWBOY REFUSES TO LOSE
(Brides of Sweet Creek Ranch Book 3)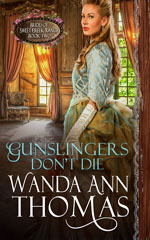 GUNSLINGERS DON'T DIE
(Brides of Sweet Creek Ranch Book 2)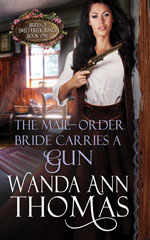 THE MAIL-ORDER BRIDE CARRIES A GUN
(Brides of Sweet Creek Ranch Book 1)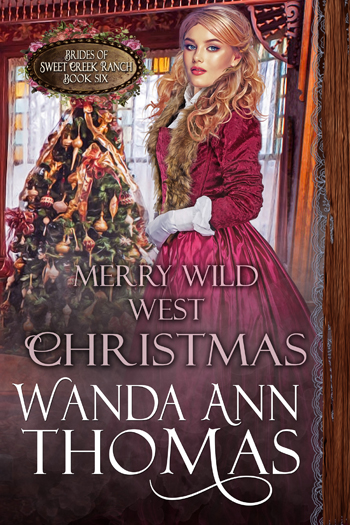 MERRY WILD WEST CHRISTMAS
(Brides of Sweet Creek Ranch Book 6)
Publication Date: November 14, 2019
ASIN: B081JY64J6




Josephine Hopkins made a promise to never lose the joy and wonder of the holidays. Her first Christmas in the Wild West takes a disastrous turn when an accident injures her father and a cowboy rancher steps in to operate the family stable business. Her courage is further tested when telltale symptoms indicate that the illness that took her twin brother's life is slowly but surely coming for her. Love and marriage have no part in her future, but she briefly ignores this truth upon sharing a Christmas kiss as sweet as ribbon candy with the big, quiet rancher.
Ox Haven is happy to be a bachelor and is not one to pay attention to holidays. Until a pretty gal with strawberry-blond hair and a fondness for all things Christmas lassoes his attention. Her declaration that she plans on being a spinster doesn't sit right, especially given her joy in family and entertaining. His awkward attempts to court her start out hopeful, but end with heart-wrenching rejection. Not one to give up, he hopes a special Christmas surprise will change her mind.
A happy holiday sprinkled with visions of love stirs up impossible hopes when a lively city gal and a quiet cowboy share a…Merry Wild West Christmas.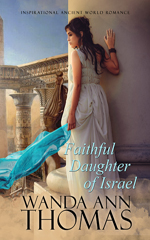 FAITHFUL DAUGHTER OF ISRAEL
(Stand Alone Inspirational Romance)
January 10, 2018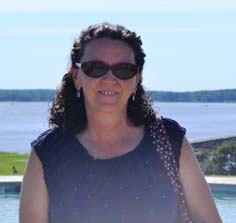 Wanda Ann Thomas is the author of Sweet Historical Western Romances and Ancient World Christian Romance. The common bond is my delight in LOVE stories. And creating stories is my happy place. After juggling a career as a dental hygienist and raising a family, I was ready for a new challenge. Twelve years and ten books later I am more enthralled with writing than ever.
Penning historical romances set among the tumultuous perils of the ancient world was inspired by my reading the works of the historian Josephus. The inspiration for THE HEROD CHRONICLES series came about while doing research for another project and learning the particulars of Herod the Great's career. A fascinating complicated man, Herod's larger-than-life exploits seemed made for fiction. Detailing the life and times of Herod also allowed me to explore my interest in the Roman world and my passion for heart-wrenching love stories, featuring warrior heroes and courageous heroines who will brave any danger for loved ones and struggle against overwhelming obstacles to win their happily ever after.
Drawn to western historical romance I adore cowboy heroes and the women who braved the dangers of the wild and wooly West to start a new life, in a new land. The allure of the beauty and severity of the mountains and plains. The bedrock of ranching and farming communities where faith, family, and friends are the heart of life. Imaging the sights, sounds, smells takes me back to my youth and time spent riding my grandfather's horses and summers haying and herding cows at my best friend's family farm. And this is all tied up with the sweet bow of a heartfelt love story.
I'm blessed to be living my own happily ever after with my high school sweetheart turned husband. Our three beautiful children and their spouses and the grandchildren are the light of our lives. When not at my desk writing I enjoy playing a round of golf, or sitting by the pool, or watching my flower gardens bloom. Road trips are a favorite recreation. There nothing more I relish than the excitement of traveling to new places and touring museums and historic homes or exploring cities or visiting national parks. And refreshed and brimming with vivid sights, sounds, and images, I am just as eager to return home and plunge back into writing the next story.