Find Me At: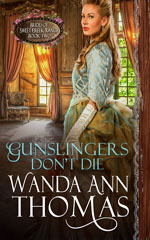 GUNSLINGERS DON'T DIE
(Brides of Sweet Creek Ranch Book 2)
November 4, 2016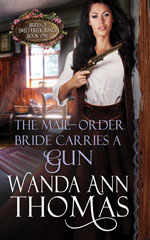 THE MAIL-ORDER BRIDE CARRIES A GUN
(Brides of Sweet Creek Ranch Book 1)
October 7, 2016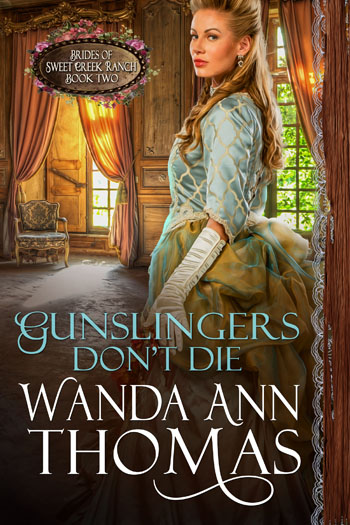 GUNSLINGERS DON'T DIE (Brides of Sweet Creek Ranch Book 2)
Publication Date: November 4, 2016
ASIN: B01LZE1AX3




Amazon
MAGGIE REED HAVEN, formerly known as Lady Lily Female Bounty Hunter, once loved risk and adventure, but set aside those dangerous ways for a stable life. Ready to begin her career as a kindergarten teacher, she has the shock of her life upon discovering the gunslinger she had recklessly married, and who promptly got himself killed in a shootout, is alive and well. The revelation presents a giant, unavoidable problem-Boone Haven is the father of her three-year-old son. Determined to do right by her son and Boone she returns to Wyoming, where the wild allure of the West and the dark and danger of the gunslinger inflame her worst instincts. And Maggie finds herself torn between her tornado-like attraction for this deadly gorgeous man and the need for a safe, respectable future.
BOONE HAVEN hates his lonely life. But a man who makes his living as a hired gun, and goes by the name the Cowboy Assassin, is bound to draw a passel of trouble. Hounded by outlaws who have already been the cause of blood and destruction at his family's homestead ranch, he should have learned to be cautious. But he fell into a trap set by the bounty hunter, Lady Lily. Worse, he foolishly married the scheming woman, who he blames for the death of his dog and his heart. When Maggie, aka Lady Lily, explodes back into his life, and he discovers he has a son, Boone has no good choices. If he stops running, he fears more of his loved ones might die. If he continues his wandering existence, his son might believe he doesn't care. If he forgives Maggie, he risks falling under her powerful spell again.
Can the gunslinger escape his past, and learn to trust and love? What does the future hold for the kindergarten teacher when she discovers…GUNSLINGERS DON'T DIE?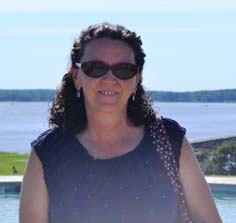 Wanda Ann Thomas is the author of Sweet Historical Western Romances and Historical Christian Fiction. She adores heart-felt love stories, featuring honorable heroes and courageous heroines. Men and women who will brave any danger for loved ones and who struggle against overwhelming obstacles to win their happily ever after.
A native of Maine, Wanda starts each day bright and early at her computer writing and drinking coffee. When the weather allows she and her husband average three rounds of golf a week. She confesses to being overly fond of chocolate chips cookies, winter vacations spent in sunny Florida, and her large boisterous family.
I would love to hear from you.