Find Me At: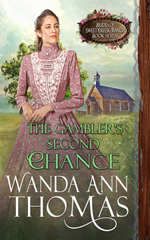 THE GAMBLER'S SECOND CHANCE
(Brides of Sweet Creek Ranch Book 7)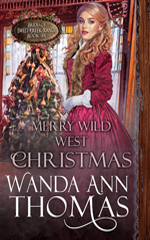 MERRY WILD WEST CHRISTMAS
(Brides of Sweet Creek Ranch Book 6)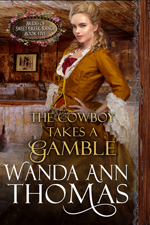 THE COWBOY TAKES A GAMBLE
(Brides of Sweet Creek Ranch Book 5)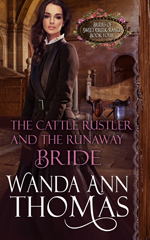 THE CATTLE RUSTLER AND THE RUNAWAY BRIDE
(Brides of Sweet Creek Ranch Book 4)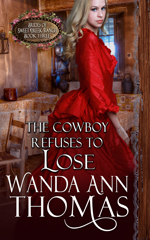 THE COWBOY REFUSES TO LOSE
(Brides of Sweet Creek Ranch Book 3)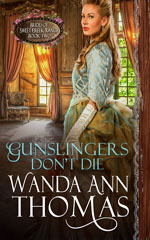 GUNSLINGERS DON'T DIE
(Brides of Sweet Creek Ranch Book 2)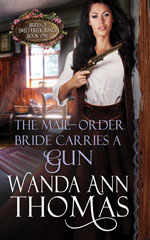 THE MAIL-ORDER BRIDE CARRIES A GUN
(Brides of Sweet Creek Ranch Book 1)


THE GAMBLER'S SECOND CHANCE
(Brides of Sweet Creek Ranch Book 7)
Publication Date: October 7, 2020
ASIN: B08KX48TJY




Professional gambler Luke "Ace" Haven foolishly proposed to a pretty missionary gal who has an unfortunate fondness for ugly bonnets. Coming to his senses he heads for the hills, only he fails to properly break off the engagement. When the lively woman shows up in his favorite Wild West town with hopes of taming it with a church, Ace will use every trick up his sleeve to prevent a steeple from darkening the skies. He also needs to reclaim the gift of an emerald necklace to build his very own saloon and gaming parlor, but his attempts to sweet talk Eva prove risky. And if Ace isn't careful his heart might be lassoed a second time.
Missionary Evangeline Prudence Dow fell for a devilishly charming cowboy who pretended to be a minister. After learning the fast-talking rogue is no saint, she is eager to return East and devout herself to the suffragette cause. First she must help her preacher father retire to a country church. An invitation to establish a church in a quaint whistle-stop town seems perfect until she discovers it is home to the liar who tromped her heart and worse yet, she is more attracted than ever to the gambler. Upon witnessing his love and devotion to a family ranch dedicated to rescuing orphaned boys, her good sense is in danger of crumbling, again. But Evangeline won't be tricked a second time.
Lies big and small stand in the way of...The Gambler's Second Chance.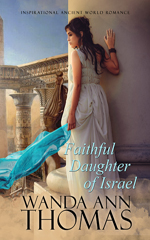 FAITHFUL DAUGHTER OF ISRAEL
(Stand Alone Inspirational Romance)
January 10, 2018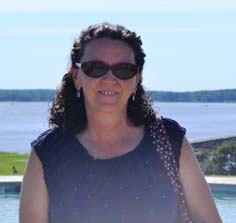 Wanda Ann Thomas is the author of Sweet Historical Western Romances and Ancient World Christian Romance. The common bond is my delight in LOVE stories. And creating stories is my happy place. After juggling a career as a dental hygienist and raising a family, I was ready for a new challenge. Twelve years and ten books later I am more enthralled with writing than ever.
Penning historical romances set among the tumultuous perils of the ancient world was inspired by my reading the works of the historian Josephus. The inspiration for THE HEROD CHRONICLES series came about while doing research for another project and learning the particulars of Herod the Great's career. A fascinating complicated man, Herod's larger-than-life exploits seemed made for fiction. Detailing the life and times of Herod also allowed me to explore my interest in the Roman world and my passion for heart-wrenching love stories, featuring warrior heroes and courageous heroines who will brave any danger for loved ones and struggle against overwhelming obstacles to win their happily ever after.
Drawn to western historical romance I adore cowboy heroes and the women who braved the dangers of the wild and wooly West to start a new life, in a new land. The allure of the beauty and severity of the mountains and plains. The bedrock of ranching and farming communities where faith, family, and friends are the heart of life. Imagining the sights, sounds, smells takes me back to my youth and time spent riding my grandfather's horses and summers haying and herding cows at my best friend's family farm. And this is all tied up with the sweet bow of a heartfelt love story.
I'm blessed to be living my own happily ever after with my high school sweetheart turned husband. Our three beautiful children and their spouses and the grandchildren are the light of our lives. When not at my desk writing I enjoy playing a round of golf, or sitting by the pool, or watching my flower gardens bloom. Road trips are a favorite recreation. There nothing more I relish than the excitement of traveling to new places and touring museums and historic homes or exploring cities or visiting national parks. And refreshed and brimming with vivid sights, sounds, and images, I am just as eager to return home and plunge back into writing the next story.